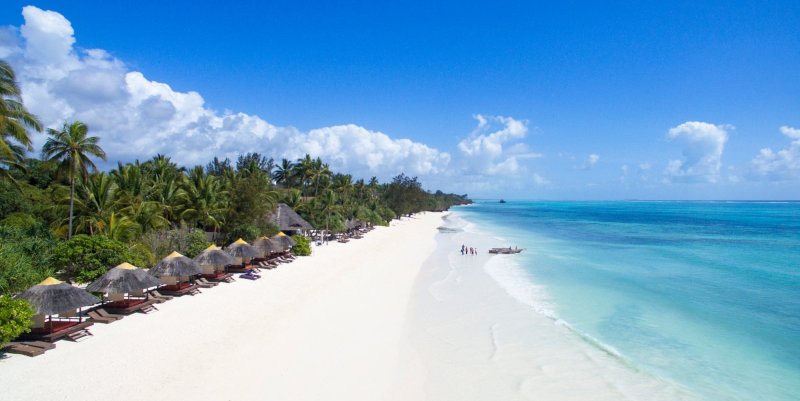 5 Days Zanzibar Holiday 
HOTEL
PRICE PER PERSON SHARING
MEAL PLAN
VALID
MNARANI
Usd.920
Half board
Upto 19th Dec
ZANZIBAR SERENA
Usd.1070
Bed and Breakfast
Upto 31st March
PEMBA LODGE
Usd.1080
Half board
Upto 19th Dec
BLUEBAY BEACH RESORT AND SPA
Usd.1090
Half board
Upto 31st March
ROYAL ZANZIBAR
Usd.1250
All Inclusive
01st April-30th June
ESSQUE ZALU
Usd.1225
Half board
01st April-30th June
TUI BLUE
Usd.1360
All Inclusive
01st April-30th June
SEA CLIFF
Usd.1055
Half board
Upto 31st March
Usd.950
Half board
01st April-30th June
OCEAN PARADISE

Usd.1190
Half board
Upto 28th Feb
Usd.1050
Half board
01st March-31st March
Usd.998
Half board
01st April-31st May
DIAMONDS MAPENZI

 

Usd.1290
All Inclusive
Upto 28th Feb
Usd.1180
All Inclusive
01st March-31st March
Usd.1080
All Inclusive
01st April-30th June
SANDIES BAOBAB
Usd.1290
All Inclusive
Upto 28th Feb
Usd.1180
All Inclusive
01st March-31st March
Usd.1080
All Inclusive
01st April-30th June
MELIA
Usd.1550
All Inclusive
Upto 28th Feb
Usd.1425
All Inclusive
01st April-30th June

The package includes:
5 days 4 nights' accommodation At your preferred hotel option

Return flights

Airport Transfer  to the Zanzibar hotel by a private exclusive van( please notes good hotels    are like 100km from where you land hence our Staff will pick you and take you for stone town and spice tour then to the beach hotel as you view the serene Zanzibar environment.
A full day excursion to Mnemba island inclusive of snookering equipment and seafood lunch ( you will be picked from your hotel, go to an island for excursion, play with Dolphins,Snorkeling with seafood lunch.
sunset cruise where you will be picked from hotel at around 3pm and using Big Dhows and as you know Zanzibar is an island, you view the spectacular, memorable sunset and drinks are served.

Personalized reception by Silverbell Safaris staff
Cost excludes:
Yellow fever certificates(Mandatory)
Water sports not mentioned
Any other not mentioned above
1
Day 1:Nairobi -Zanzibar
Depart Nairobi  with  the first flight for the day to Zanzibar where you will be met by our representative  who will take you to your hotel via Spice island tour and stonetown tour. Spend the afternoon relaxing in the room, pool, gardens or take a beach stroll or water sports. Return to the hotel for dinner then you may retire to bed at own pleasure.
2
Day 2 –Zanzibar Mnemba Island excursion.
After Breakfast our guide will pick you and take you together with others on a full day tour by dhow to visit an Island where you will spend the day sailing, snookering and swimming with the dolphins in the serene Indian Ocean. Seafood and barbecue luncheon will be served in the white sandy island as you relax and get a chance to network with other holiday makers in this excursion from all over the world. then return to the hotel for further relaxation and freshening up.
3
Day 3-Zanzibar
After breakfast you may spend the whole day as you please.
4
Day 4– Zanzibar & Sunset Cruise
You may spend the whole day as you please. In the evening, our tour guide will pick you from the hotel together with others and take you to the beach where you will take a dhow to enjoy a sunset cruise to enjoy sundowners at the best view point as drinks and snacks will be served. Return to hotel for dinner and overnight.
5
Day 5 – Zanzibar Beach relaxation before Nairobi Return
Check out your room and relax at the hotel or beach as you capture the last beach pictures. when you will be picked by our representative who will transfer you to airport for your flight back home